In order to receive health care whilst at university, you need to register with us.
It is a university regulation that you register with a general practitioner (GP) in the Norwich area.
If you are in the UK for 6+ months and live within our practice boundary area, we are here to provide care and support for you should you need it during your time at university. Our doctors and nurses are very experienced in dealing with students and all contact with us is strictly confidential.
Please register no more than 7 days prior to arriving in Norwich (in case you continue to need GP services until that time)
Am I Eligible to Register?
To be eligible to register at the UEA Medical Centre you must meet the following 3 criteria:
You must have an affiliation with the university or research park (see below)
You must be entitled to NHS Care (see below)
Your Norwich address is within our practice boundary (see below)
Our NHS contract requires us to provide home visits to all patients registered with us. If you live outside our boundary, we are not able to provide this service, therefore you will need to register with a GP closer to where you live.
Visit NHS Choices – find a GP to search.
Practice Boundary Map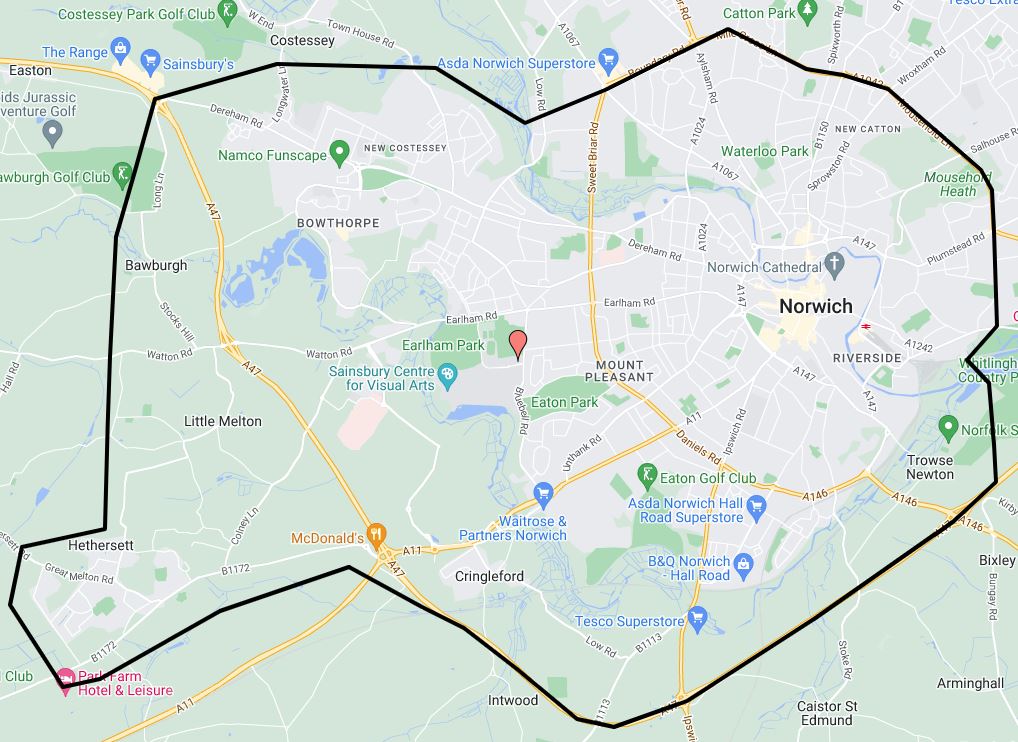 Accepted Affiliations with the University or Research Park
University student or staff member
An employee of the Norfolk & Norwich University Hospital or organisation in the Norwich Research Park
A contractor who is contracted to provide services for the university, research parks or NNUH hospital
A person co-habiting at the same address as someone in the above 3 criteria (who must already be a registered patient)
Ex-patients wishing to re-register within 5 years of leaving the practice list
Are you Eligible for NHS care?
The NHS operates a residence-based healthcare system.
Most NHS services are free to people who are ordinarily resident in the UK.
Generally, NHS care is free for those;
ordinarily resident in the UK (which means living in the UK on a lawful and properly settled basis for the time being)
insured by an EEA member state with a valid EHIC or S1 form
covered under the Immigration Health Charge
exempt in law eg; refugees, asylum seekers, victims of modern slavery, people covered under reciprocal healthcare agreements with the UK
Even if you are ordinarily resident here or are generally exempt from charge for your NHS care, some NHS services are not free such as prescriptions, opticians and dentistry.
What do you Need to Bring with you?
NHS Number
Your NHS number is unique to you and shows you are a registered patient of your present doctor. If you do not know your NHS number you can find your NHS number here
Medical History and Serious Illness or Ongoing Treatment
If you have had a serious illness, if you are currently undergoing medical treatment or hospital investigation, or if you are currently taking medication, then a brief doctor's letter (in English) summarising your medical history, will help us provide you with uninterrupted health care.
Medication
Bring enough medication to last you at least 6-8 weeks until you have seen a doctor here.
Medical Insurance
If you have arrived from overseas, bring details of your medical insurance to cover general practice, specialist and hospital care if your stay in the UK is less then 6 months (unless you are from a country/area with a reciprocal healthcare agreement with the UK) as you may not be eligible for free NHS care.
International Students – TB (Tuberculosis) Screening Certificate
How Do I Register with You?
It is quick, easy, you do not need to download any forms, there is no need to come into the medical centre and no need to queue up and wait! It takes 5 minutes to complete – as soon as you have your full/confirmed campus address, you can sign up.
Online registration is quicker and our preferred method, but you can still register with us in person if you wish – come to the medical centre between the hours of 10am-4pm, Monday to Friday. Please just be aware you may encounter some queuing. If you choose to register in person, just make sure you bring your campus card plus download, print and complete the GMS1 form and Health Questionnaire.
Please help us to help you, by trying to register as soon as you arrive at university.
Registered here but need to see a doctor whilst away from UEA/Norwich temporarily?
If you need to seek medical assistance from your 'home' GP whilst you are away from Norwich (eg; during Christmas, Easter, Summer vacation) but you are due to return to UEA/Norwich thereafter, then we strongly advise you DO NOT register with your 'home' GP – instead, ask to be seen as a temporary resident.
Being seen as a temporary resident means you can still be seen whilst at home, but your main GP is at the UEA Medical Centre with all your medical records, where you live and spend most of your time.
If you do register with your 'home' GP, then you will need to re-register with us when you come back and your medical records may be delayed in transit.
Medication over summer vacation
If you are leaving Norwich for summer vacation (but returning in autumn) make sure you have enough medication to last you until your return. If you need an appointment to see a doctor or a nurse for a prescription that is not on repeat, or if your medication review date is overdue, don't leave it until the last minute to book your appointment! It is a very busy time of year for us, so phone 01603 251600 and make an appointment in advance. Most contraceptive repeats can be done in a nurse appointment.
Please note: If you are on Dianette contraceptive pill, you will need to see a doctor.
Registration with a GP in the Norwich area does not preclude you from consulting your family GP (or indeed any other GP) during vacations or while away from university (although when you do this a 'Temporary Resident' form will have to be completed on these occasions).
Overseas Students/Visitors
International students should try and register immediately as TB screening may be required (see below for details)
Tuberculosis (TB) screening
If you are from overseas, you may need to be screened for TB if you come from a country with a high prevalence of this disease.
If your country appears on this list, please register as soon as possible online or in person. TB screening is free and failure to comply with the TB screening is a breach of university regulations and may lead to suspension from the university and exclusion from campus.
Can I See A Doctor/Nurse?
Anyone in England can access primary care (GP and Nurse consultations) free of charge irrespective of nationality, immigration status or length of stay in the UK (as long as it is >24 hours)
If you are here for less than 3 months in total, we can see you for free (affiliation criteria still needs to be met) if your treatment is immediately necessary/urgent (i.e. something that cannot wait until you return home) or you can visit the walk-in centre in the city.
If you are here for between 3-6 months, we can register you for primary care (GP services) but you may be required to pay for secondary care referrals/treatment/investigations.
If you are here for more than 6 months, you are eligible to register fully for primary and secondary care with us as long as affiliation criteria is met.
In all cases, you will still need to pay for certain services (unless exempt) such as;
Prescriptions
Dental treatment
Eye care
Wig and fabric support
If you need to see a doctor or nurse at the UEA Medical Centre, please speak to our reception staff. Please advise them of the reason you need to see someone so they can best deal with your concern and put you in with the most appropriate clinician. You will be required to complete some NHS registration paperwork so we can make the necessary appointment(s).
What If I Need To Go To Hospital? Do I Have To Pay?
Hospital treatment (secondary care) is free of charge for people who are ordinarily resident in the UK. This means that you must be living lawfully in the UK on a properly settled basis to be entitled to free healthcare. The measure of residence that the UK uses to determine whether someone is entitled to free NHS healthcare is known as 'ordinary residence'. To be ordinarily resident in the UK, people from countries outside the European Economic Area (EEA) who are subject to immigration control need to also have their immigration status of 'indefinite leave to remain'.
Under the terms of the Brexit Withdrawal Agreement, if you are from within the EU, you will be covered for some treatment if you fall ill or have a medical emergency during your visit using your European Health Insurance Card (EHIC). You should make sure you bring your EHIC with you when visiting the UK. You should also make sure you have adequate travel and health insurance for your visit as an EHIC does not cover all healthcare costs. If you do not haven an EHIC, you can request a Provisional Replacement Certificate (PRC) from the relevant authority where you live.
If you cannot provide or obtain a valid EHIC, PRC or S2, you may be charged for your treatment.
Immigration Health Surcharge (IHS)
You will pay IHS if you are coming to the UK from a country outside of the EEA (European Economic Area) for stays of more than 6 months. People who have paid the surcharge (or who are exempt from having to pay it or have had the requirement waived) can use the NHS in a similar way to an ordinarily resident person while their visa remains valid.
Entitlements to NHS Services for Migrants
This animation explains the entitlements to NHS services and to vaccination for migrants in England and is aimed at healthcare professionals who support migrants in their practice.
Medical/Travel Insurance
Having your own medical and travel insurance is essential when coming to the UK, especially if you are here for less than 6 months, and the level of cover you get should be appropriate to your needs.
We cannot comment or recommend insurance providers – you would need to investigate and source this in your home country. If you are coming to study at the UEA, there should be further information about this in your UEA joining instructions.
What Immunisations Do I Need For University?
The University encourages you to receive immunisations in advance of your arrival at UEA.
If you have not been immunised you should consult your home GP to obtain the immunisation at least 3 weeks before you are due to start at the UEA. We strongly advise you to obtain your immunisations BEFORE coming to the UEA.
In the last few years there have been outbreaks of Mumps in UK Universities.
Mumps is an infectious disease caused by the mumps virus. It is a mild disease in most people, causing very little upset and may even go completely unnoticed. In others however, it can have severe complications. These include meningitis, encephalitis, deafness, inflammation of the pancreas, swelling of the testes or ovaries (and infertility can occur as a result of these complications affecting the testicles and ovaries).
The UK Government's Department of Health has advised all students entering University to ensure they have had a recent MMR booster immunisation unless:
a) The student has had a booster MMR in the preceding 3 months
b) The student is certain they have had 2x MMRs in the past
c) The student has a medical reason for not having the MMR
Please check with your usual medical adviser and where necessary obtain the vaccine prior to arrival at UEA. Students who are unable to obtain the vaccine will be offered the vaccine by the University Medical Service.
A course of MMR vaccines consists of 2 doses (with an interval between dose 1 and dose 2).
Meningococcal disease is a rare but life threatening infectious disease caused by a bacteria – Neisseria meningitis.
You should have had the Meningitis ACWY vaccination BEFORE starting university.
International students should also consult their doctor to try to be immunised at least 3 weeks before their arrival in the UK.
We strongly recommend all those coming to university have had at least 2 doses of a Covid vaccination.
You can book your vaccine appointment online if you have not.
Covid Vaccinations & Passports
Guidance for Patients who have had Covid vaccines outside of the UK
If you are coming to the UK from abroad and have already had either a partial or full course of covid vaccination in another country, you may need a further vaccine once you arrive in the UK.
This will depend on which vaccine you have received. In all cases, please ensure that there has been 8 weeks or more between the last vaccine given abroad before you attend a vaccination centre in the UK.
If you have had a full course of any of the following vaccines you do not need a further vaccine on arrival to the UK:
AstraZeneca/Vaxzeveria (2 doses)
*Pfizer/BioNTech (2 doses)
Institute of India/Covishield (2 doses)
Moderna (2 doses)
Novavax (2 doses)
Janessen/Johnson&Johnson (single dose)
Gamelaya National Centre of Epidemiology & Microbiology/Sputnik V (2 doses)
If you have had a incomplete course of any of the above, please book via the NHS booking site.
*UEA Medical Centre only has Pfizer clinics available to book into – if you need this vaccine, contact reception 01603 251600 to book. All other vaccines will need booking via the NHS booking site
If you have had one or two doses of any of the following vaccines, you will require a further vaccine. Please attend a covid vaccination clinic for a further vaccine on arrival to the UK and book via the NHS booking site.
*Sinopharm
Sinovac/CoronaVac
Gamelaya National Centre of Epidemiology & Microbiology/Sputnik Light
CanSino Biologics/Convidencia
Bharat Biotech/Covaxin
*If you have had three doses of Sinopharm, you do not need any further vaccine in the UK.
Important: We cannot add covid vaccines from overseas to the NHS App (covid passport). The NHS App will only show covid vaccinations given in the UK.
You can find further information about the Covid-19 and the vaccination programme here.
NHS App and overseas vaccines not showing
If you have had your covid vaccine(s) overseas, please note that it is not possible for us to record details in such a way that they will appear on the NHS app. We can only update a patient's GP record.
If you would like your overseas vaccines to appear on your NHS App, you will need to book an appointment to show evidence for any covid vaccine you have had outside of England so the NHS can securely update your vaccination record. This is the only way vaccines outside of England and those given overseas can be added so they appear on the NHS App.
Passport name not matching covid passport (on the NHS App)
We are being asked by patients to change their name on their GP records to match their passport. This is because usually they have changed their name but only informed either the passport office or the surgery and not both.
We can do this on your GP records, but the automatic update this triggers to the central NHS databased that links your covid passport may take a few days. This is out of our control.
The covid passport does note show your middle name. We are therefore unable to add middle names to your covid passport. You need to take this up with the consulate or embassy of the country you are travelling to.
You can either email a clear photo of your passport showing the exact name to [email protected] or come into the medical centre in person for reception to verify your passport details. If you choose to send this via email, please be advised that this is unsecured and done so at your own risk.
You must understand that for a while your GP records will be out of sync with hospital records and prescriptions until the automatic links are updated externally.
We will try and do this within a few (working) days of asking, but this can not take precedence over urgent medical tasks.
Language Translation Service
We are able to offer a language translation service for those students who speak little English. The translation is done over the phone in a 3-way conversation between you, the person you have booked your appointment with and the translator.
All information is confidential.
If you feel you would need to use the translation service at your appointment, please ask for a double (20 minute) appointment, and let the receptionist know when you book which language you require so they can make the necessary arrangements.
If you are finding it difficult to understand our website and need it translated to your own language, click on the flags on the right hand side of the page. This will bring up Google Translate. Select your chosen language and this will translate automatically.
Please note: we cannot guarantee the accuracy of the translation and do not take any responsibility for the translated content.